Inflation in the UK has taken a positive turn, dropping to a 15-month low of 7.9% in the year leading up to June. This decrease in inflation has brought some relief to Bank of England (BoE) policymakers who have been grappling with the challenge of reining in runaway prices. While the figure still exceeds the Bank's 2% target, the decline in inflation is an encouraging sign. In this article, we delve into the factors contributing to this drop in inflation and discuss its implications for the UK economy.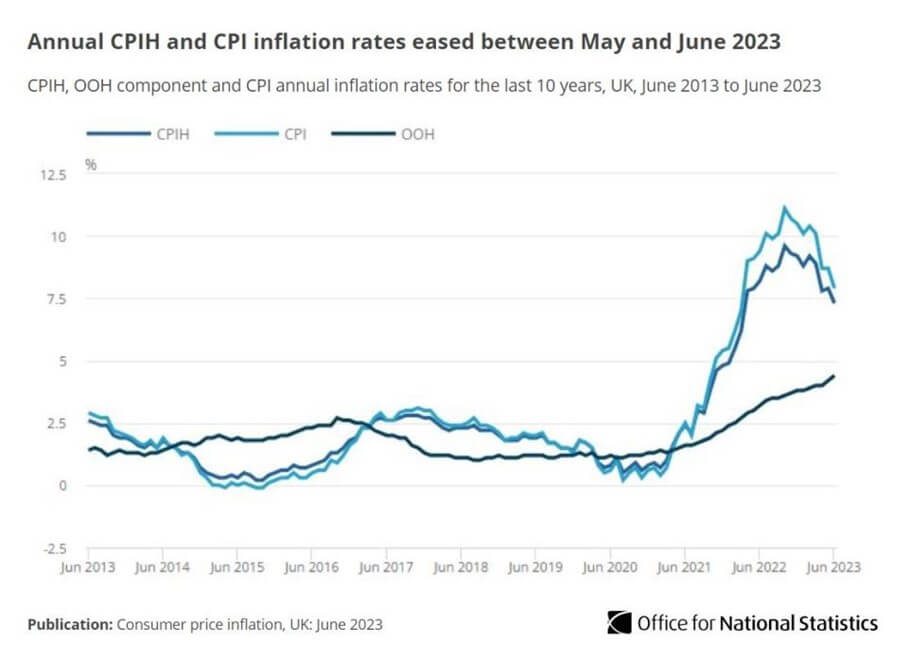 Core Consumer Price Index (CPI), which excludes energy, food, alcohol, and tobacco, saw a decline, rising by 6.9% in the 12 months leading up to June, down from 7.1% in May. Economists had anticipated that core inflation would remain steady at 7.1%. These numbers indicate that while inflationary pressures persist, there is some respite in core categories.
Grant Fitzner, chief economist at the ONS, noted that costs for manufacturers remain elevated, particularly for construction materials and food items. However, the pace of growth has slowed over the past year, with the overall cost of raw materials falling for the first time since late 2020. Despite the decline in inflation, the Bank of England has been proactive in raising interest rates in an attempt to combat high inflation. They have already implemented 13 consecutive rate hikes, reflecting their commitment to addressing the issue.
Markets are now forecasting a peak of 6% in inflation by March of next year, a slightly more optimistic projection compared to the previously expected peak of 6.25%. However, analysts anticipate that the Bank of England will proceed with another interest rate increase at its upcoming meeting in August. Speculation suggests that a rise of a quarter-point or even a half-point may be on the horizon, taking the base borrowing cost up from 5%.
Marcus Brookes, chief investment officer at Quilter Investors, acknowledged the positive surprise of beating expectations. However, he emphasized that the UK continues to stand out as a significant outlier compared to other developed economies when it comes to inflation. Although the rate of price rises has decreased to 7.9%, it still remains well above the Bank of England's desired level before considering a pause in the rate hikes.
The recent drop in UK inflation to a 15-month low is a welcomed development for the Bank of England, as it eases concerns about runaway prices. Contributing factors such as declining food prices and falling motor fuel costs have played a crucial role in this downward trend. While inflation still persists above the Bank's target, the prospect of a future decline brings some optimism. As the Bank of England considers its next move in the fight against inflation, the focus remains on striking a balance between price stability and supporting economic growth.
(Source: Yahoo Finance / ONS)